| | | |
| --- | --- | --- |
| | The Simpsons 138th Episode Spectacular | |

This episode is a clip show.
It features clips from previous episodes.
"Yes, the Simpsons have come a long way since an old drunk made humans out of his rabbit characters to pay off his gambling debts."
"The Simpsons 138th Episode Spectacular" is the tenth episode of Season 7. The episode marks the first time Matt Groening has appeared in the show. However, he is depicted as a Texan drugger who will shoot anyone he sees, so his attorneys speak for him.
Synopsis
Troy McClure hosts this behind the scenes style show. We start with a brief history, showing some classic Tracey Ullman clips and then Troy goes on to answer viewers' questions about Smithers' sexuality and Homer's stupidity. We then see never-before-seen deleted scenes from various episodes up to this point and we are shown an alternate ending to 'Who Shot Mr. Burns?' where Smithers actually is the culprit.
Full Story
In honor of the 138th episode of "The Simpsons", Troy McClure hosts a Simpsons TV special looking back at the history of the show. The opening has "I Will Only Do This Once A Year" as a chalkboard gag and the couch gags from "A Streetcar Named Marge" (also used in "Last Exit to Springfield"), "Lisa The Beauty Queen" (also used in "Duffless"), "Marge vs. the Monorail", "Homer's Triple Bypass" (also used in "Marge in Chains") "Burns Verkaufen der Kraftwerk" (also used in "The Otto Show"), "Homer Goes To College" (also used in "Lisa vs. Malibu Stacy"), "A Star Is Burns" (also used in "'Round Springfield"), "Homer The Great" (also used in "The PTA Disbands"), "Homer Badman" (also used in "Two Dozen and One Greyhounds"), "Lisa's Rival" (also used in "Bart vs. Australia"), "Bart's Comet" (also used in "Lemon of Troy") and "Lisa's First Word" (also used in "The Front", "Cape Feare" and "Fear Of Flying"). The first act is composed of various Tracey Ullman shorts, like "Good Night", "The Perfect Crime", "Space Patrol", "World War III" (in 1987) and "Bathtime" in 1989. Troy also has a "talk" with the "real" Matt Groening. Mr. Groening declines the interview by shooting out the camera with a .357 magnum or .44 caliber revolver. His attorneys bring Troy a note, telling him that Mr. Groening can't create a Simpson episode on his own and some of his animators did so to help him create it.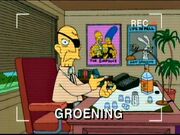 Next, Troy answers some viewer mail. One person asks what's the deal with Smithers. The answer is Smithers being Mr. Burns' assistant and his alleged homosexuality and someone else asks if Homer is getting dumber each season from Season 2 to Season 6.
The final act promotes a deleted scenes reel, in episodes such as "Krusty Gets Kancelled", $pringfield, Homer and Apu and Burns' Heir. The alternate ending to Who Shot Mr. Burns? (Part Two) is also shown, which reveals Smithers is the shooter. There are also unaired scenes involving Barney, Tito Puente, Moe, Apu and Santa's Little Helper shooting Mr. Burns each with different guns.
To finish the episode, Troy shows everyone "what they all wanted to see, hardcore nudity!" which shows some nudity from the other episodes (mostly from the front and censored in a way) as well as the times when someone (mostly Bart) pulls down their pants to "moon" somebody.
Behind the Laughter
Reception
The episode ranked among the ten most viewed episodes of the seventh season. After its initial American airing, the episode received a Nielsen rating of 9.5 and a Nielsen rank of 48. The episode has become study material for sociology courses at University of California, Berkeley, where it is used to "examine issues of the production and reception of cultural objects, in this case, a satirical cartoon show" and to figure out what it is "trying to tell audiences about aspects primarily of American society and to a lesser extent, about other societies."
The episode received positive reviews from critics. The authors of the book I Can't Believe It's a Bigger and Better Updated Unofficial Simpsons Guide, Warren Martyn and Adrian Wood, thought "the out-takes are up to standard" and contains "a number of great self-referential moments". Simone Knox praised its visual style in her article Reading the Ungraspable Double-Codedness of "The Simpsons". DVD Movie Guide's Colin Jacobson said even though the episode is a clip show, it "gussies up the concept with some interesting elements and keeps repetitive material to a minimum. Instead, it offers lots of then-unseen footage as well as old snippets from The Tracey Ullman Show. It still feels like a cheap way to crank out a new episode, but it's one of the better clip shows you'll see."
Citations