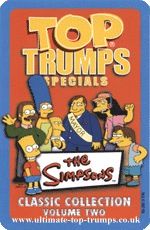 The Simpsons Classic Collection Volume 2 was the second Top Trumps pack in the Simpsons Classic Collection set, created by Winning Moves. It featured 30 characters, and with its prequel and sequel, had 90 different characters.
Card List
Arnie Pye
Bart Simpson
Bumblebee Man
Cletus Spuckler
Database
Dr. J. Loren Pryor
Drederick Tatum
Edna Krabappel
Fallout Boy
Hans Moleman
Happy Little Elves
Jacques
Janey Powell
Kearney
Kirk Van Houten
Krusty the Clown
Legs & Louie
Lenny
Llewellyn Sinclair
Lou & Eddie
Marge Simpson
Mayor Quimby
Mr. Burns Lawyer
Mr. Costington
Ned Flanders
Nelson Muntz
Otto
Rainier Wolfcastle
Selma Bouvier
Squeaky-voiced Teen
External Links
Community content is available under
CC-BY-SA
unless otherwise noted.