| | | |
| --- | --- | --- |
| | The Simpsons Skateboarding | |
The Simpsons Skateboarding is a video game released for the PlayStation 2 in North America on November 13, 2002 and released in Australia and UK in 6 December 6, 2002. It was developed by The Code Monkeys and published by Fox Interactive and Electronic Arts. All of the characters's voices were recorded by the actual voice actors from The Simpsons. The game received poor reception due to terrible graphics, bad music & sound, and poor controls
Released
NA : November 13, 2002
PAL : 6 December, 2002
Gameplay
Springfield has been converted into a skate park for the Annual Skate Tour, full with skate-able objects and landmarks from the television series. Players are able to choose one of the nine characters available to compete for the grand prize. Each character has over forty unique moves. Players can test their skills in either a two-player head-to-head skate off, or in one of the fast and furious modes: Freeskate, Skate Fest, Trick Contest, and a game of skateboard H-O-R-S-E, unlocking additional characters, locations, and skateboards. Players can also choose to learn all the skateboard moves and tricks before they begin the actual game in the Skillz School mode.
Development
The Simpsons Skateboarding was developed by The Code Monkeys, and published by Electronic Arts (EA) and Fox Interactive. Before EA made an official announcement about The Simpsons Skateboarding, an advertisement for the game was featured on the back page of the instruction manual for The Simpsons Road Rage, which was released in 2001. In addition to the manual, there were also advertisements for it scattered as billboards throughout the game's virtual world.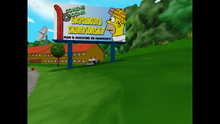 There were no mention of a console in the advertisement and no gameplay details were revealed. In December 2001, EA representatives said they were not ready to comment on the product. On May 16, 2002, a few days before the E3 Media and Business Summit, they released the first information about the game. All of the characters' voices were recorded by the actual voice actors from The Simpsons.
Characters
Levels
Gallery
Community content is available under
CC-BY-SA
unless otherwise noted.