| | | |
| --- | --- | --- |
| | The Simpsons Spin-Off Showcase | |
Trivia
Cultural References
Magnum P.I. - The title of Chief Wiggum's skit is a reference to the famous TV show.
My Mother the Car - The "Love Matic Grandpa", where Moe's Love Tester is possessed by the spirit of Grandpa, is a spoof of this Jerry Van Dyke show, where a man buys an antique car to learn that his deceased mother is communicating to him through the car.
The Smothers Brothers Show - Not to be confused with their better known variety show, the animated opening credits of this sitcom (in which Tommy Smothers dies and becomes Dick's guardian angel) are parodied as the "Love Matic Grandpa" opening credits.
2001: A Space Odyssey - When Grampa/Love Machine was beaten in the bathroom, he sings 'Daisy' while in pain. This is a reference to HAL 9000 singing 'Daisy' right before his higher thinking was deactivated.
The Flintstones - The tiny alien called Ozmodiar is based on The Great Gazoo from this series.
Sonny and Cher - One of the segments of Homer and Marge talking during the Variety Hour segment has an orange and black picture of them, directly parodying artwork of Sonny and Cher from their show.
Whip It - The song Smithers is singing and dancing is a reference to the 1980 song by Devo.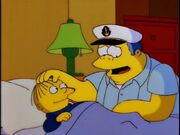 Goofs
When Chief Wiggum is talking to Ralph, his arm is briefly put too high up so that the space between his arm and Ralph's blanket can be seen. This makes it clear than Wiggum's arm isn't fully drawn.
When Wiggum kisses Ralph goodnight, his lips never actually touch Ralph's forehead.

One of the Mardi Gras monster costumes (actually the Simpsons in disguise) briefly loses its teeth randomly.

During the first scene at Moe's Tavern, a random splotch of white appears on Barney's shirt.
Also, part of Barney's sleeve repeatedly appears and disappears.

When he's talking to his date in the bathroom, part of the back of Moe's blue blazer briefly turns white.
Community content is available under
CC-BY-SA
unless otherwise noted.