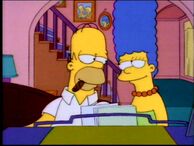 "Those Were the Days" is the theme song from the sitcom All in the Family, usually sung off-key and played on the piano by the show's main characters, Archie and Edith Bunker. The song is parodied in the episode "Lisa's Sax" by Homer and Marge, and again in "Mr. Lisa's Opus". The music was written by Charles Strouse and the original lyrics by Lee Adams. The parody lyrics were written by Al Jean and Mike Reiss. It is part of the second track on the album Go Simpsonic with The Simpsons.
Lyrics
Homer:
Boy, the way the Bee Gees played...
Marge:
Movies John Travolta made...
Homer:
Guessing how much Elvis weighed...
Homer and Marge:
Those were the days.
Marge:
And you know where you WEEEEEEEEERE then!!!
Homer:
Watching shows like Gentle Ben.
Homer and Marge:
Mister, we could use a man like Sheriff Lobo again!
Homer:
"Disco Duck" and Fleetwood Mac...
Marge:
Coming out of my 8-track...
Homer and Marge:
Michael Jackson still was black.
Those were the daaaaaaaaaaaaays!
(canned applause)
Announcer:
The Simpsons is filmed in front of a live studio audience.
Reprise
This version is not on the album
Homer:
Bart was feeling mighty blue.
Marge:
It's a shame what school can do.
Apu:
For no reason, here's Apu.
Homer, Marge and Apu:
Those were the daaaaaaaaaaaaays!