"You guys don't have a gay time machine, do you?"
"Three Gays of the Condo" is the seventeenth episode of Season 14.
Summary
Homer and Marge have a fight when Homer realizes Marge only married him because she was pregnant with Bart. Homer chooses to leave the house and struggles to find the best roommate.
Synopsis
The Simpsons start a puzzle and finish it but are missing a piece. Homer then believes it is in Marge's memory chest and is sidetracked by a letter Marge wrote the day Moe's Tavern opened (the missing puzzle piece was actually under Maggie's eyelid). Marge was originally going to break up with Homer as he got drunk, causing Homer to react oversensitively at her every comment and, ultimately, break up with Marge himself. Homer plans to move out of home, first going to Kirk Van Houten's apartment, but leaving after realizing how depressing the lifestyle is in the entire apartment complex (populated entirely by lonesome divorced men like Kirk).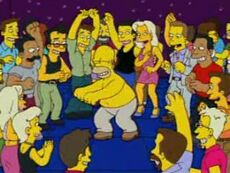 While walking home Homer sees a newspaper bender and takes one which features a classified advertisement for an open apartment in the Gay District of Springfield. In the new apartment Homer moves in with two gay men named Grady and Julio and Homer starts the learn about gay culture and even takes the kids to his new home. The next day Marge uses "Weird Al" Yankovic to get Homer back and asks Homer to go on a date. Homer then forgets while having Margaritas with the "Velvet Mafia" and asks Grady and Julio if they own a gay time machine (Grady's shoe closet) and tell Homer no but he is missing his date with Marge. Homer then feels nervous and Grady and Julio's Margaritas have made Homer feel better but he arrives drunk for his date with Marge at the Medieval Times restaurant.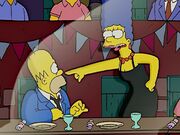 Homer then goes to Moe's tavern where he begins to realize that all the problems in his life may be caused by alcohol. However just as he makes this revelation Moe forces a Bottle of Duff Beer down his throat to make him forget this insight. Moe gives Homer alcohol poisoning and then Homer ends up in the hospital to find out Dr. Hibbert has a video from the past (because he thought his nurse was stealing sponges) that explains later that after Homer got drunk Marge could not break up as she did not want to raise baby Bart alone and that Homer was a good man and she could see it. Many years later an older Dr. Hibbert only has a collection of video tapes left and finds out that the nurse did steal the sponges, proving he was right. Over the end credits, "Weird Al" Yankovic reprises the song Homer and Marge.
Behind the Laughter
Production
The character Grady is voiced by the openly gay comedian/actor Scott Thompson, most famous for being a member of the Canadian sketch comedy troupe The Kids In The Hall. "Weird Al" Yankovic has said that he was called in a week before the episode aired to re-record a line sung in the ending credits. The original line was "Oh yeah, we've got time to fill; why don't you go pee before King Of The Hill?" However, prior to the airing, it was found that King Of The Hill was moved earlier and that the time slot after The Simpsons was taken by the new show Oliver Beene. The new line was sung as "Oh yeah, 'Weird Al' had fun on this show; even if it was just a brief cameo".
Reception
Awards
This episode won the Emmy Award in 2003 for Outstanding Animated Program (For Programming Less Than One Hour).
Citations