Opening Credits
Created by
Developed by
James "The Tooth Fairy is a Crook" Brooks
Executive Producer
Executive Producer
Co-Executive Producer
Co-Executive Producer
Co-Executive Producer
Co-Executive Producer
Co-Executive Producer
Co-Executive Producer
Co-Executive Producer
Co-Executive Producer
Co-Executive Producer
Supervising Producer
Supervising Producer
Consulting Producer
Consulting Producer
Consulting Producer
Consulting Producer
Consulting Producer
Producers
Producer
Producer
Producer
Consulting Producer
Supervising Director
Produced by
Produced by
Produced by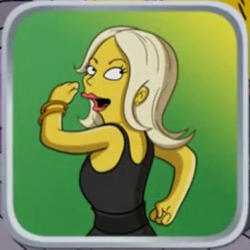 Produced by
Written by
Directed by
Closing Credits
Executive Producer
Executive Producers
James "The Tooth Fairy is a Crook" Brooks
Starring
and
Special Guest Voice
Also Starring
Chris "Aaagh! The Pressure!" Edgerly
Opening Credits by
Animation Producers
Jaspreet "Blood Spillin" Dhillon
Andrea "No Relation to George" Romero
Staff Writer
Post Production Co-Producer
Animation Co-Producer
Associate Producers
Theme by
Music Discomposed by
"Fat-In-The-Hat - Part 1"
"Fat-In-The-Hat - Part 2"
Music by
Lyrics by
When the Saints Go Marching In Traditional
Mockingbird Written by Charlie Foxx and Inez Foxx Performed by Nancy Cartwright and Julie Kavner
Barnum and Bailey's Favorite Written by Karl King Hummed by Dan Castellaneta
Superfreak Written by Rick James and Alonzo Miller
Original Casting by
World War B - with Animal Zombies
Editors
Production Coordinator
Dialogue Sound Editors
Sergeant Panhandle Activity Greene
Dorian Dissevering
Sound Effects Editor
Re-Recording Mixers
Production Mixer
Sound Recording
Music Scoring Mixer
Script Supervisor
Production Accountant
Post Production Audio Facility
Post Production Facility
Presented in
Dolby Surround
Assistant to Mr. Brooks
Assistant to Mr. Groening
Assistant to Mr. Jean
Assistant to the Producers
Animation Produced by
a Starz Company
Overseas Production by
Overseas Animation Director
Opening Titles
Storyboards by
Animation Director
Animation Assistant Director
Animation Storyboard Artist
Lead Animation Timer
Lead Background Layout Artist
Animation Editor
Overseas Production by
Overseas Animation Director
Assistant Director
Lead Animation Timer
Additional Timers
Second Unit Director
Retake Director
Storyboard Artists
Storyboard Revisionists
Animatic Layout Artists
Animatic Editor
Background Designers
Character Designers
Prop Designers
Lead Character Layout Artists
Character Layout Artists
Lead Background Layout Artists
Background Layout Artists
CG Artist
FX Layout Artists
Color Design Director
Color Design Supervisor
Color Designers
Assistant Color Designers
Animation Checkers
Digital Retakes
Scene Planner
Lip Sync
Track Reader
Assistant Editors
Animation Production Managers
Animation Production Lead Coordinators
Animation Post Production Manager
Animation Production Supervisor
Animation Production Coordinators
Animation Digital Production Assistants
Animation Production Assistants
Animation Production Accountant
Film Roman - General Manager
Director of IT
IT Support
The persons in this film are fictitious.
Any Similarity to actual persons or events is unintentional.
THE SIMPSONS EPISODE #RABF16
COPYRIGHT ©2013
TWENTIETH CENTURY FOX FILM CORPORATION
Twentieth Century Fox Film Corporation is the author of this motion picture for purposes of copyright and other laws.
This motion picture is protected under laws of the United States and the other countries.
Unauthorized duplication, distribution or exhibition may result in civil liability and criminal prosecution.
The Simpsons and the Simpsons characters, ™ Twentieth Century Fox Film Corporation.
N.A.B.
Creative Consultant
Executive Creative Consultant
IN ASSOCIATION WITH
A News Corporation Company
Community content is available under
CC-BY-SA
unless otherwise noted.