Wiki Targeted (Entertainment)
Play Sound
Try-N-Save is a supermarket in Downtown Springfield.
Profile
The store sells a variety of products, including stationery, video games, toys, and jewelry, and it has a photo center. They have small kiddie rides outside, a horse and car. The store is protected by Detective Don Brodka. Try-N-Save often has themed sales, such as Christmas or back-to-school. The store is open 24 hours on Christmas. Hundreds of Springfielders waited outside the store for the release of the latest popular children's toy, Funzo.
Bart attempted to steal the video game Bonestorm from the store during the holidays, but was ultimately caught by the store's guard. As a result, he was told not to set foot in that store again or he would face criminal charges in court. When The Simpsons announced they are to going to the store for their annual Christmas family portrait, Bart tries to convince his family to go to other Try-N-Save stores and won't state his reasons why. However, Homer refuses and lays down the law that he won't drive the family further than the one closer to their home. Bart then attempt to use a fake nose and chin putty to avoid detection, but Marge tells him to remove it and behave himself. He manages to avoid detection for a while until Brodka, having learned the truth, yanks Bart as the photographer takes the Simpsons' family portrait to confront him. It was there his family finally learned about Bart's shoplifting of Bonestorm, but Marge is in disbelief claiming that Brodka had the wrong child. So he attempted to prove Marge wrong by showing her the security footage, but Bart tries to stop him by admitting that he did shoplift. Bart would later return using Nelson's advice to apologize for his actions and take a good picture of himself in a photo that he bought for Marge.
Simpsons Hit and Run PS2 game features the store with a gag outside of it: an exploding ride.
Trivia
Behind the Laughter
Try-N-Save is a parody of the now defunct retail chain Pic 'N' Save.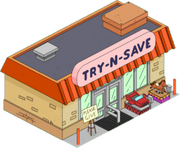 Appearances