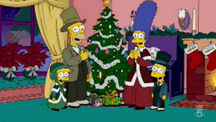 Twelve Days of Christmas is a popular Christmas carol. The Simpsons sing their own version of it as a couch gag in "Pranks and Greens". The parody lyrics were written by Jeff Westbrook.
Lyrics
The family: On the twelfth day of Christmas,
My true love gave to me...
Twelve Grampas grumbling,
Eleven Barneys belching, (Barneys belch in unison)
Ten Lennies leaping,
Nine Carls dancing,
Eight Moes a-milking,
Seven Selmas smoking,
Six Flanders praying,
Professor Frinks: Five golden Frinks,
The family: Four crawling nerds,
Two special Ralphs,
And a Maggie in a Snugly.
Community content is available under
CC-BY-SA
unless otherwise noted.