Doctor Strange in The Multiverse o Madness - The Loop
Play Sound
"Hi there, neighbors. Uh, I'm...George Bush. Former President, George Bush"
―George Bush after moving to Evergreen Terrace in Springfield
"Two Bad Neighbors" is the thirteenth episode of Season 7.
Synopsis
Homer's jealousy of all the attention his new neighbors, George and Barbara Bush, receive turns to rage when the former President spanks Bart.
Full Story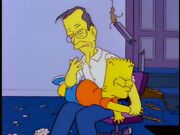 Evergreen Terrace holds a garage sale. As Homer dances on the tables advertising all of the junk, there is a diversion: the empty house opposite from the Simpson home is being moved into. It is occupied by former President George Bush with his wife Barbara, much to Homer's dismay. After Ned Flanders and his family came over to visit the Bushes and George takes a liking to Ned, Bart plans to visit, and Barbara takes a liking to him: However, Bart's habit of calling adults by their first names and his overall annoying attitude does not do much for George. Eventually, after Bart accidentally shreds George's newly typed memoirs, the former President takes Bart across his knee and spanks him after finally becoming fed up with Bart bothering him and irritating him. Homer is outraged after discovering that George has spanked Bart (since he and Marge don't believe spanking is a suitable punishment) and confronts George, telling him to apologize to Homer. Both men vow to cause trouble for each other, despite that Barbara suggests to George that he should offer an apology to Homer.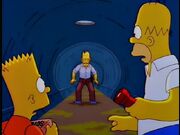 Homer sends bottle-rockets at George's bedroom window. George puts up an anti-Bart-n'-Homer banner, which confuses everyone else so that doesn't last long. Homer then glues a rainbow afro wig on his opponent's head just before he is to give an important speech to a local club after Homer placed cardboard cutouts of his sons, George Walker and Jeb on his front yard to trick him. George retaliates by chewing up the Simpsons' lawn with his car. Despite Barbara asking her husband to apologize, the confrontations continue. Homer and Bart are making their way through the sewers to release locusts in George's house, but he observes them and climbs down to fight. Finally, after pressure from Barbara, George apologizes, but sells the house as the neighborhood clearly brought out the worst in him as the couple leaves Springfield for good. The vacated house is immediately purchased by another former President, Gerald Ford, who invites Homer to watch a football game with him and to enjoy some beer and nachos at his house, which Homer happily accepts. While walking across the street, they trip on the sidewalk curb and fall over, both shouting "D'oh!" in the process.
Behind the Laughter
Production
In September 1990, Barbara Bush mentioned in an interview for People magazine that The Simpsons was the dumbest thing she had ever seen. Five years later, an episode had George Bush and Barbara Bush move to Springfield and leave after George gets involved in a feud with the Simpson family. The The Simpsons: The Complete Fourth Season DVD set includes a special feature that presents an exchange of letters between the First Lady and show staff. In another address, Bush said that America needed to be more like The Waltons than The Simpsons, causing Bart to say they were a lot like the Waltons, since they were both praying for an end to the Depression.
Despite the hype over the appearance of George and Barbara Bush in this episode, they were actually voiced by regular cast members Harry Shearer and Tress MacNeille. Dan Castellaneta voiced Gerald Ford.
Citations