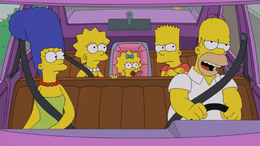 Upstate New York
is a song sung by
Homer Simpson
in the episode "
D'oh Canada
".
Lyrics
Start watching FOX news.
Stop watching your weight.
There is no fancy part of it.
Upstate New Work.
They're fond of their booze,
But wing sauce is great.
I'm gunna clog my heart in it.
Upstate New York.
I wanna sleep in,
In a city,
That never wakes,
And find I'm fittin' right in.
One of the gang.
Par for the course.
The codak plant's closed,
But I'm a-longing to stay,
And go on disability,
In Upstate New York.
Can't make it anywhere,
But I can,
Make it there.
I love you so,
Upstate New York.
Trivia
This song is a parody of Frank Sinatra's song, "New York".
Community content is available under
CC-BY-SA
unless otherwise noted.