My History With The Simpsons
It probably wasn't until June 2013 that I began watching The Simpsons. A friend of mine showed me The Simpsons: Tapped Out, and I was instantly hooked. I'd never really seen The Simpsons enough to tell you anything aside from the main characters names, (Homer, Marge, Bart, Lisa, and Maggie Simpson.) Therefore, the problem began when it got time to build The Flanders house in the game, I had no idea who Ned Flanders was. So I began to watch the show starting from the beginning with, Simpsons Roasting on an Open Fire. It's really funny when I think about because now I can just say off the top of my head that Ned's full name is Nedward "Ned" Flanders Jr. widower to Maude Flanders, father of Rod and Todd Flanders, and he was currently married to Edna Krabappel; however evidence shows that she recently passed away in the episode The Man Who Grew Too Much. The Simpsons really is a fantastic show and I believe it's one of the greatest shows ever made. Also the fact that almost anyone can relate to in some way is truly what's it's made it so popular. You know the show's helped me through a really stressful time, and I honestly believe it makes me feel good to watch the show. Thank you, Dan, Julie, Nancy, Yeardley, Hank, Harry, Pamela, Russi, Tress, and all the others for such a great show, hope it lasts another 10 fantastic years. :)
Top 3 Favorite Episodes
I've always liked the Bart and Lisa episodes the best.
Top 3 Favorite Male Characters
Top 3 Favorite Female Characters
Top 3 Favorite Simpsons Songs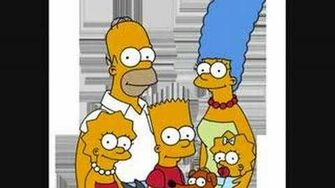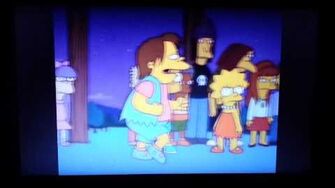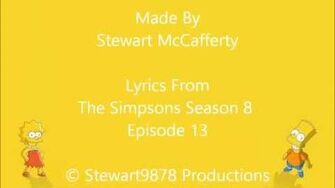 Quotes
My favorite quotes.
(Simpsons Roasting on an Open Fire)
[Marge writing a letter]
(Marge:) "Dear friends of the Simpson family. We had some sadness and some gladness this year. First, the sadness: our little cat Snowball was unexpectedly run over and went to kitty heaven. But we bought a new little cat Snowball II, so I guess life goes on. Speaking of live going on, Grandpa is still with us, feisty as ever. Maggie is walking by herself, Lisa got straight A's, and Bart... well, we love Bart. The magic of the season has touched us all."
(Homer:) Marge! Haven't you finished that stupid letter yet?
(Marge:) "Homer sends his love. Happy Holidays..."
(Homer:) Marge!
(Marge:) "...the Simpsons."
---
(Blood Feud)
(Homer:) Hello… My name is Mr. Burns and I believe you have a letter for me.
(Clerk:) Okay, Mr. Burns, uhh, what's your first name?
(Homer:) I don't know…
---
(Stark Raving Dad)
[Lisa reading her poem to Homer]
(Lisa:) I had a cat named snowball,
She died!
She died!
Mom said she was sleeping,
She lied!
She lied!
Why oh why is my cat dead,
Couldn't that Chrysler hit me instead?
---
(Radio Bart)
[Bart playing a prank on Rod and Todd]
(Bart:) [on the radio] Rod! Todd! This is God!
(Rod:) How did you get on the radio?
(Bart:) Whaddya mean, 'How did I get on the radio?' I created the universe! Stupid kids.
[The Flanders' boys get down and start praying]
(Todd:) Forgive my brother, we believe you.
(Bart:) Talk is cheap. Perhaps a test of thy faith. Walk through the wall; I will remove it for you!
[Rod makes the attempt and walks into the wall.]
(Bart:) Later. [he laughs]
(Todd:) What do you want from us?
(Bart:) I got a job for the, bring forth all the cookies from your kitchen and leave them on the Simpsons' porch.
(Rod:) But those cookies belong to our parents.
(Bart:) [grumbles] Look, do you want a happy God or a vengeful God?
(Todd:) [quickly] Happy God!
(Bart:) Then quit flapping your lip and make with the cookies!
(Rod and Todd:) Yes, sir!
---
(Bart's Friend Falls in Love)
[The Kids in Mrs. Krabappel's class are watching a video on "Sex-Education".]
(Troy McClure:) Hello I'm actor Troy McClure. You kids might remember me from such educational films as "Lead Paint, Delicious But Deadly" and "Here Comes The Metric System". I'm here to provide the facts about sex in a frank and straightforward manner. And now, here's "Fuzzy Bunny Guide To You-Know-What". This is Fuzzy Bunny, about a year ago he noticed his voice was changing, he had terrible acne, and had fur where there was no fur before. He also noticed Fluffy Bunny.
(Bart:) Boring.
(Troy McClure:) Fluffy and Fuzzy went to the park, the ice cream social, the boat show, and various other wholesome activities. And they never ruined their fun by giving in to their throbbing biological urges. Then came the big day, Fluffy and Fuzzy got married. That night came the honeymoon. [Funky Sexy Jazz Music Plays]
(All:) Eww!
(Mrs. K:) She's faking it.
(Troy McClure:) The most satisfying part of the night was knowing that they waited. Nine months later Fluffy gave birth to 14 beautiful bunnies, 8 survived. And now that you know how it's done, don't do it. [The music plays again.]
(Mrs. K:) Any questions?
(Nelson:) Mrs. Krabappel, how come you don't live with Mr. Krabappel?
(Mrs. K:) Because Mr. Krabappel chased something small and fluffy down a rabbit hole.
(Samantha Stanky:) How do we know when we fall in love?
(Mrs. K:) Oh, don't you worry. Most of you will never fall in love and marry out of fear of dying alone. [she chuckles]
(Bart:) How would I go about creating a half man, half monkey-type creature?
(Mrs. K:) I'm sorry, that would be playing God.
(Bart:) God, Shmod- I want my monkey man!
---
(Treehouse of Horror III)
(Marge:) Homer, did you call the audience "chicken"?
(Homer): No. I swear on this Bible.
(Marge:) That's not a Bible. That's a book of carpet samples.
(Homer:) Ooh... fuzzy.
---
(Mr. Plow)
(Homer's Brain:) Don't tell him you were at a bar! [gasp] But what else is open at night?
(Homer:) It's a pornography store. I was buying pornography.
---
(Homer Goes to College)
(Homer:) [Homer singing] I am so smart, I am so smart, I am so smart, I am so smart! S-M-R-T, I mean S-M-A-R-T!
---
(Summer of 4 ft. 2)
[The school bell rings] (Milhouse:) School's out! Up yours Krabappel!
[Milhouse then runs out of the classroom]
---
(Grade School Confidential)
(Maude Flanders:) Excuse me, Edna. I don't think we're talking about love here. We are talking about S-E-X, in front of the C-H-I-L-D-R-E-N!
(Krusty:) Sex Cauldron? I thought they closed that place down!
---
(Simpson Tide)
(Kent Brockman:) Could Homer Simpson be a communist? His father spoke out on his behalf.
(Grampa:) My Homer is not a communist. He may be a liar, a pig, an idiot, a communist, but he is not a porn star!
---
(Homer to the Max)
(Trent Steel:) You like Thai?
(Homer:) Tie good. You like shirt?
---
(Half-Decent Proposal)
(Patty:) Overnight bag, no husband in sight - it's happened!
(Selma:) She left Homer? I'll get the champale!
(Patty:) And let's get that ring off!
(Marge:) Whoa, whoa, whoa, Delilah! I didn't leave Homer, and I never will. I just need one night away from his snoring.
(Selma:) Great - we'll have a girls' night.
(Patty:) No bras!
---
(Treehouse of Horror XIV)
(Homer:) [about to kill the Grim Reaper] This is for Snowball I and JFK!
---
(Double, Double, Boy in Trouble)
(Burns:) You know, Master Simon, I too was once the youngest in a wealthy family.
(Bart/Simon:) You were once the youngest of something?
(Burns:) Yes but fortune ended up smiling on me while snuffing the life from my siblings.
My older brother was trampled by a horse.
My sister died of a poisoned potato.
My twin was shot.
That girl was stabbed.
He ate another poisoned potato.
Spontaneous combustion.
Fell down a well.
Potato.
Potato.
And impaled on the Chrysler Building.
---
(The Real Housewives of Fat Tony)
(Fat Tony:) [chuckles] I like you. I don't know whether to knock you on your kisser, or kiss you on your knockers.
(Selma:) I don't know whether to peck you on your kisser, or kiss you on your -
(Fat Tony:) [cutting her off] You shall have your lipo.
---
Seasons
These are the seasons I own so far, I just watch the other seasons online.
Community content is available under
CC-BY-SA
unless otherwise noted.