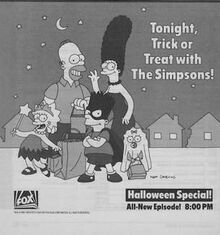 TV Shows I Like
The Simpsons, Futurama, Bob's Burgers, Gunsmoke, The Andy Griffith Show, M*A*S*H*, The Tonight Show Starring Johnny Carson, Saturday Night Live, Seinfeld, and many many more....

About me
Hi. My name is Cole V. Summers and like many of you,I love the Simpson. I'm going to add some good (and fact checked) things to this wiki.
Oh,and I have a Youtube channel. Here's the link to it: https://m.youtube.com/chanel/UCxle5H0qS7m4UCIXYT5VULw
I also added the Bart Hits Homer With a Chair page on this wiki. If somebody tells you otherwise, they're lying.
Favorite Episodes
Add links to your favorite episodes of The Simpsons here!
Favorite Characters
Add links to your favorite characters here!
My Favorite Youtubers
My favorite youtubers are Theodd1sout,Jaiden Animations,TonyvToons,It's Alex Clark,TimTom,SomethingElseYT,Meteorz and CGP Grey.
Community content is available under
CC-BY-SA
unless otherwise noted.