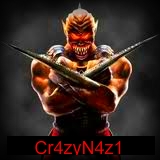 About me
I'm 16 years old, i hail from croatia (European country) and i love watching cartoons but my favorite is the simpsons and other ones that i love to watch are [edd n eddy ]and [SquarePants.] Also i love playing video games and my favorite video game is Mortal Kombat.
Favorite Episodes

There are more but i can't remember right now.
Favorite Characters
Homer Simpson
Sideshow Bob
Clancy Wiggum
Superintendent Chalmers
Montgomery Burns
Captain Horatio McCallistar
Duffman
Julius Hibbert
Seymour Skinner
Moe Szyslak
Community content is available under
CC-BY-SA
unless otherwise noted.