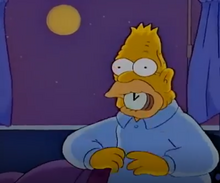 About me
I I have been a Simpsons fan and have really gotten into it at around 1999. One of the first games I had on the Xbox was The Simpsons Road Rage and I remember feeling an errie sense of nostalgica each time I play that game. Whether it is the girls in 7th grade quoting the game or is it locations in the game, I feel for it. I imagine Springfield being set up as The Simpsons Road Rage.
Like a bunch of fans, I discredit the "new" Simpsons. It just aint the same anymo.
Favorite Episodes
Favorite Characters
Professor Frink (I cosplayed as him)
Chief Wiggum
Community content is available under
CC-BY-SA
unless otherwise noted.