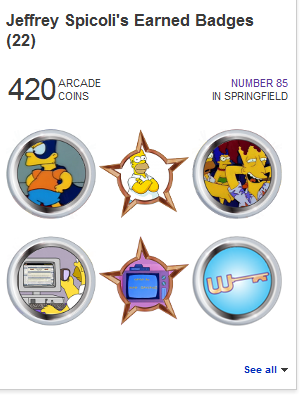 About me
Uh, don't call me Jeff. And please don't call me Jeff Albertson. Jeffrey Spicoli is a pseudonym, and Sean Penn's famous stoner character in Fast Times at Ridgemont High. You don't say. Oh, wait. Nic Cage was in that movie! Anyway, I'm rambling, so...
...I'm a freelance writer by occupation, rock musician as a hobby, because indie/underground musicians here in the Philippines don't earn peanuts. Not even the literal kind of peanuts.
Lisa's brain + Bart's mischief + Homer's buffoonery + Marge's worrying + Maggie's silence = Me.
ATTENTION!!! I will not be making too many updates on the Simpsons Wiki for the foreseeable future. It's no joke catching up with all those writing deadlines. Though I must say I did enjoy that 2-3-month period when I made a whole lot of updates on this site! Thanks as well to those who had given me a heads-up on certain policies and procedures on Simpsons Wiki and those who had corrected my formatting, grammar and choice of words. It is much appreciated! :D
Favorite Episodes
Homerpalooza
How I Spent My Strummer Vacation
That '90s Show (Two words to this ep's haters - FLOATING TIMELINE.)

I might as well include my Worst Episodes Ever too. The Principal and the Pauper. Saddlesore Galactica. Now edited to add Bart-Mangled Banner. Haven't watched a lot of the newer episodes so there may be more to follow. That said, I don't hate 21st century Simpsons at all...despite all the "jumped the shark" talk circulating on the Intarwebz...
Favorite Characters
Homer Simpson
Bart Simpson
Ralph Wiggum
The Yes Guy aka Frank Nelson Type
Community content is available under
CC-BY-SA
unless otherwise noted.