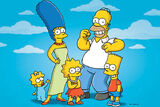 The free encyclopedia for everything related to The Simpsons. The wiki allows anyone to create or edit any article, so everyone can contribute their knowledge to help create a decisive database of Simpsons information.

Main Articles

Characters

Locations

Recent Episodes

Awards

Editor of the Month
Join and you can be apart of our monthly competition! This competition involves everyone from the wiki competing for the prestigious award of Editor of the Month. If you can make edits that BENEFIT this wiki the most, you can win our award and go into wiki history as one of the best! We also have a range of other awards and competitions. To find out how to enter follow the link: Simpsons Wiki: Editor of the Month.

Noiseland Video Arcade Contest! Awards
If you're interested in editing, and you want to be easily noticed for it, the Noiseland Video Arcade Contest! is what you want. If you keep editing, adding photos, adding pages to categories and more, you could even win one of our Noiseland Video Arcade Contest! Awards. Every month, the top three users on the leaderboard are given either the gold, silver or bronze award, depending on their rank. It's not easy to get them though, so for a chance to get an award, go on and start editing!

Need Help?
If you're having trouble with the site and don't understand how to use it, don't be afraid to ask! Our administrators won't bite. If you wish to join or have any queries about editing than feel free to browse through our expansive tutorial: Help. However, if the tutorials are too confusing, then feel free to message one of our four administrators. Just leave a message on one of their talk page and they will be sure to help you as soon as possible.
Chat
Wikia also has a chat. Feel free to join the chat and converse with fellow editors. The admin Randomno is often on chat. If you have a question then you can ask anyone using chat at that paticular time. You can find chat on the right side of most pages.
Community content is available under
CC-BY-SA
unless otherwise noted.