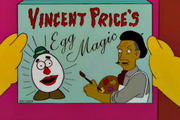 Vincent Price's Egg Magic is an egg making game that Marge & Lisa play while Homer and Bart are at the Super Bowl. It was given to them by Patty and Selma Bouvier. The craft kit comes with the template stickers, paint, brushes, and accessories.
Steps
1. First you stick on a template sticker, this will make the painting part easier.
2. Then you paint on the face.
3. When that's done you add some accessories. e.g. a hat.
4. Finally you stick the feet on, if the feet aren't there, phone the company
No feet
After doing step 1, 2, and 3, Marge and Lisa discover that the feet to put on the eggs are missing even though the box clearly says feet included (Bottom left corner). Marge calls the company and Vincent Price, despite being dead, says that the feet will be on their way.
Appearances
Community content is available under
CC-BY-SA
unless otherwise noted.