WALL·E is a Disney/Pixar trash compacting robot that is left behind on Earth 700 years in the future when all humans leave on a spaceship so they do not have to deal with Earth's problems.
Homer meets WALL·E in "The Burns and the Bees" when he has a thought of what the Earth would be like without honey, and it looks exactly the same as it does in the movie albeit colored green.
He makes a second appearance in "Stealing First Base", during the montage when Nikki was giving Bart CPR, he is seen getting kissed by EVE.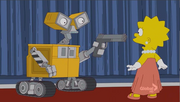 His third appearance is in "Angry Dad: The Movie" when at the Grammys, he appears slightly different (along with a lot of other Pixar characters altered as well) and holds a gun at Lisa as a parody of "You've got a friend in me", "You've got an enemy", plays.
Appearances

This article about a Simpsons character is a
stub
. You can help the
Simpsons Wiki
by
embiggening it
.
Community content is available under
CC-BY-SA
unless otherwise noted.