Wiki Targeted (Entertainment)
Play Sound
| | | |
| --- | --- | --- |
| | Waverly Hills 9-0-2-1-D'oh | |
Cultural references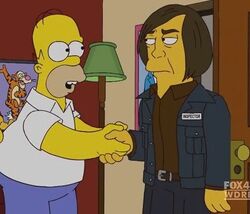 The title is a parody of Beverly Hills 90210.
Alaska Nebraska is a parody of Hannah Montana.
Waverly Hills is a parody of Beverly Hills.
The City inspector is based on Anton Chigurh, a character from the 2007 film No Country for Old Men played by Javier Bardem. Like Chigurh, the inspector often flips a coin, calls people "friendo" and uses a bolt pistol to blow away door locks.
The ending song with the credits is a parody of Weezer's song "Beverly Hills".
While Homer is on the Xbox, it appears that he is playing "Halo 2" and is "teabagging".
"Sciencewater", the water Marge drinks, is a parody of "Vitamin Water".
Krusty runs over a paparazo in front of what looks like The Ivy, a popular celebrity restaurant in Beverly Hills.
Homer has a plush doll of Winnie The Pooh and a picture of his friend Tigger.
Trivia
The year after this episode aired, Beverly Hills banned nonresidents from attending schools in their district.
Ralph's party is the third party Bart's been to (first Martin's in "Grade School Confidential" and second Nelson's in "The Haw-Hawed Couple").
The person rolling Lisa into Alaska Nebraska's dressing room is the Squeaky-Voiced Teen.
In the episode, Homer has a Wii and an Xbox.
One of the pieces of art on the walls of Homer and Marge's "first apartment" looks similar to the canvas Composition with Red, Yellow, and Blue by Piet Mondrian.
During the scene where Homer and Marge enter the party a poster for the Beatles album Abbey Road is on the wall.
The scene where Ms. Hoover is abusing her tenure is used in the movie Waiting For Superman.
Goofs
Ralph goes into the locker after Lisa comments on his smarts, but the locker has the lock locked, although it could have been set.
When Ralph says "Class, in what year was 1+1?" his seat is empty. Right after the scene there's a kid in his seat.
Community content is available under
CC-BY-SA
unless otherwise noted.