watch 01:12
The Loop (TV)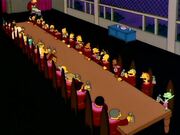 We Do (The Stonecutters' Song) is an Emmy-nominated song from the episode "Homer the Great". The music was composed by Alf Clausen and the lyrics by John Swartzwelder. The song was initially not included in the original script of the episode and was suggested by Matt Groening. It was written by the writer's room, who threw in as many things that annoyed them as they possibly could. It is praised as one of the best musical numbers and included in the episode "All Singing, All Dancing". It's the second track on the album Songs in the Key of Springfield. It was nominated for a 1995 Primetime Emmy award for Outstanding Individual Achievement in Music and Lyrics. It lost to the song "Ordinary Miracles" from the TV special "Barbra: The Concert."
Lyrics
Stonecutters:
Who controls the British crown?
Who keeps the metric system down?
We do, we do!
Who keeps Atlantis off the maps?
Who keeps the Martians under wraps?
We do, we do!
Who holds back the electric car?
Who makes Steve Guttenberg a star?
We do, we do!
Who robs cavefish of their sight?
Who rigs every Oscar night?
We do!
We do!!!
Community content is available under
CC-BY-SA
unless otherwise noted.