Doctor Strange in The Multiverse o Madness - The Loop
Play Sound

"Wedding for Disaster" is the fifteenth episode of Season 20.
Synopsis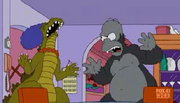 It turns out that Reverend Lovejoy didn't have a valid license to perform weddings when he presided over Homer and Marge's wedding (he had remarried the couple after their divorce in "A Milhouse Divided"), so they have to get married again, but just when the wedding is about to start, Homer disappears, and the only clue is a key attached to a key-chain marked "SB"...but is it Sideshow Bob?
Full Story
At church, Reverend Lovejoy announces that the Parson will be coming to town. Ned Flanders faints, and Homer leaves to go get "Smelling Salts" (although this was actually an excuse to leave church early). The parson arrives and informs the Reverend that, for a period of three months, Reverend Lovejoy was not an official minister, due to a bureaucratic error, and all official deeds he performed during this time were invalid, such as holding the funeral of Jasper's wife Estelle, blessing Captain McAllister's ship, and blessing Cletus' house.
When Homer and Marge's remarriage turns out to be invalid because Reverend Lovejoy was not licensed at the time, Homer asks Marge to marry him again. Marge takes over as the wedding planner, becoming more and more irritable and lashing out at Homer for whatever he does. Demanding non existent blue roses from the florist, telling Homer he could pick the frosting for the cake and then immediately telling the baker to use a different one than chocolate, (he chose chocolate, she demanded lemon) and yelling at him when he let Lenny and Carl come. Homer eventually has seen too much and starts arguing with her, even calling her a Bridezilla.
When Homer mysteriously disappears on their wedding day, Marge is devastated and thinks that it was her attitude that caused him to vanish and even admits that some of her ideas was awful like some of the food she picked out tasted terrible. Bart and Lisa search for answers, as they were certain that Homer couldn't have willingly fled on Marge, since Homer, regardless of how bad things got for him, would never leave a place that had a chicken bar. They are then led on a cryptic trail of clues, and find some keys with a key-chain that has the initials S.B., leading them to Sideshow Bob. However, Bob is revealed to have been innocent the entire time, thanks to an alibi from Krusty who explains that he was with him at the time when the kidnapping would've happened. Sideshow Bob helps Bart and Lisa out by pointing out the key-chain true initials of SB as his ex-wife and their aunt, "Selma Bouvier". The kids realize Patty and Selma are Homer's true captors, whom the twins plan to keep Homer cooped up until Marge forgets about him. Realizing what is at stake, Bart and Lisa rush to save him.
Meanwhile, in a parody of Saw, Homer finds himself in a dark room chained to a pipe. When a mysterious voice tells him that the key (which is not the key but the 'hotter sauce') is the 'hotter to unlock his chains is inside a lollipop, he frantically eats it only to discover the lollipop is made of fiery hot sauce and he is tormented as Bart and Lisa race to save him. His kidnappers are Patty and Selma, using a voice modulator, are enjoying their torment and ignoring Apu when he comes in to renew his driver's license. Feeling resigned to his fate, Homer reads the heartfelt wedding vows he wrote for Marge. Despite his problems with Patty and Selma, Homer has kind words for them. This moves Patty and Selma to tears when they see how much Homer loves Marge and releases him. Bart and Lisa attempt to warn Marge, only to discover it was unnecessary as Homer was back at the house (with Homer mentioning that "sobbing trolls" left him at the doorstep). Back at their apartment, Patty and Selma proceed to dispose of the evidence (the hot-sauce lollipops as well as some fire ants) connecting them to the crime. However, with the key-chain as proof, Bart and Lisa use it to trace them and confirm the twins were behind the kidnapping when the keys fit perfectly in the door lock to their apartment. When they tried to play innocent, Lisa doesn't buy it as she revealed that she and Bart understand what the twins did to their father (Bart also makes clear that it was due to their involvement that he won't accept their cookies this time around, implying that even he was disgusted with their actions to his parents). The kids blackmail Patty and Selma intentionally by threatening to tell Marge about their involvement in Homer's kidnapping unless they empty their 401K's to pay for their parents remarriage ceremony, which they reluctantly do. Homer and Marge are finally married outside city hall.
Gallery
Citations