Cultural references
Some elements of the episode (in particular the climax), as well as its title, are a reference to "Weekend at Bernie's".
When the family first finds out Homer is using marijuana, he is singing "Smoke on the Water" by Deep Purple.
The music used while Homer is getting stoned on his first joint is "Incense and Peppermints" by Strawberry Alarm Clock.
"Wear Your Love Like Heaven" by Donovan plays in the montage of a stoned Homer getting ready for work.
The background music playing at Mr. Burns' investor's conference is the intro to Elvis Presley's version of "C.C. Rider," the King's usual opening song in his '70s concerts.
Homer's car during his hallucination as he's getting ready for work looks like Benny the Cab from Who Framed Roger Rabbit.
When Marge is making the scarecrow for her vegetable patch, pop-ups appear on the screen in the style of VH1's Pop-Up Video.
The song Phish is singing is "Run Like an Antelope". Later, Phish plays the opening limb of the Simpsons theme song, something Phish actually did in their real-life concerts.
When Homer smokes pot, he says that it (marijuana) can "make anything funny, even that show that follows Friends." This is possibly a reference to Frasier, which did follow Friends at the time of this episode's original air date but is more likely a reference to the numerous—and usually short-lived—series scheduled after Friends for many years.
When Homer is stoned and talks to Ned Flanders he cites his own example of the Omnipotence paradox: "Could Jesus microwave a burrito so hot that he himself could not eat it?"
When Marge puts together a scarecrow, the music in the background is "If I Only Had a Brain" from The Wizard of Oz.
Trivia
Because the episode dealt with marijuana smoking and getting it legalized this episode was given a TV-14 rating on American television. In the UK, this episode, due to the references to marijuana and scenes of Homer being abused by animals, this episode was initially banned, but later aired post-watershed (and never advertised). In Australia, the episode also only aired post-watershed and was given a higher rating than usual (the "M" rating, which was also used in "Natural Born Kissers" for sexual content, Treehouse of Horror XV for drug abuse, sexual content, and brutal violence, and "Million Dollar Abie" for references to animal abuse and assisted suicide).
While Marge is preparing the scarecrow Comic Book Guy pops up with references saying 'Lisa's jersey, from "Lisa on Ice"', 'Bart's jockey pants, from "Saddlesore Galactica"', 'Jack-o-Lantern, from "Treehouse of Horror III, Treehouse of Horror IX, XII"', and 'Grampa's Hat, from Who Shot Grampa's Hat?. The "Who Shot Grampa's Hat?" is a fictional episode, most likely based off of the "Who Shot Mr. Burns" two-parter (Part one was the Season 6 finale, and Part two was the Season 7 opener).
the shifting to psychedelic colors as Homer is about to smoke was shown at FOX's request since they forbade directly showing Homer smoking the marijuana stick.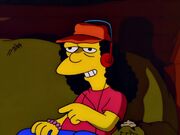 Goofs
In this episode, the bottom of Otto's headphone connector is red instead of its usual blue.
Community content is available under
CC-BY-SA
unless otherwise noted.