West Springfield Elementary School is an elementary school in West Springfield. It has the same floorplan as Springfield Elementary School.
Seymour Skinner mentions Brendan Beiderbecke lives 50 feet into West Springfield and that he would be "transferred to a school three buses and a long bus ride away from here", possibly referring to how distant the school is.[1]
History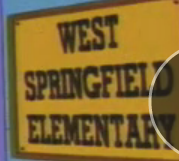 After arriving at the school by mistake, one of the main differences Lisa notices is that they teach French. Thelonious is one of the students there.
Behind the Laughter
Even though Lisa claimed that Springfield Elementary School did not teach French, The episode "'Round Springfield" had one of the faculty commenting that French was being affected by budget cuts. It's possible that Springfield Elementary no longer has a French program because of these budget cuts.
School buildings sharing the same floor plan is true to real life, and usually happens when more than one school building is being built in a district at the same time.
Appearances
References
Community content is available under
CC-BY-SA
unless otherwise noted.