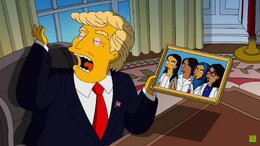 West Wing Story
is a song parody of "America" from
West Side Story
; the song depicts a sing off between President
Donald Trump
and the "Squad" (
Rashida Tlaib
,
Ilhan Omar
,
Alexandria Ocasio-Cortez
, and
Ayanna Pressley
), in which Trump loses the sing-off. Trump is chased out of the White House and then joins the 2020 Democratic presidential candidates in a can-can line, where Trump runs out of breath and falls down.
Lyrics
Donald Trump (Speaking): So many problems, tariffs. I need a distraction.
Donald Trump: They shouldn't be in America.
No one but me America.
No taxes for me in America.
This is my natural hair-ica.
Ilhan Omar: We're more American than your wife.
Donald Trump: She's not a big presence in my wife.
Alexandria Ocasio-Cortez: Your love life makes us heave.
Donald Trump: You two will never see Tel Aviv.
Rashida Tlaib: Your greasing your palm with the monuments.
Donald Trump: It's okay with God, says Mike Pence.
Squad Members: You're Boris Johnson without the class.
Can't wait to see you behind prison glass.
Your nose is right up Putin's ass.
We say it's time to impeach you fast.
Donald Trump (Speaking): Oh no! It's the democratic candidates! [pants] Can't be the first one to lose my breath! [ack] Can't be the first one to fall! [falls] Oof!
Joe Biden (Speaking): Ha ha ha ha! Who's an old man now? Ha ha!
Behind the Laughter
The clip is the most disliked Simpsons video on all of YouTube as of now. One week after it's posting it has 3.5k likes and 50k dislikes.
Videos
Community content is available under
CC-BY-SA
unless otherwise noted.