Trivia
This is the last time the prototype theme music from the Season 2 opening titles is played. This is also the last time that Bart's chalkboard gag has its original high color saturation.

This is possibly because this episode was produced back in Season 2, making it the second episode to be a leftover.

The Jerky Hut is misspelled as The Perky Hut in this episode.
A scene of The Itchy & Scratchy Show: Burning Love was used from the episode and they also show closing credits.
This also aired on BBC One.
This is also the first episode in the series that primarily focuses on Ned Flanders.
This is the first of a very few episodes (excluding the non-canon Treehouse of Horror specials) showing Homer technically having an antagonistic role as he wishes The Leftorium to be a failure and go out of business, and then (initially) show no remorse for his actions, although he then does so.
This is the first episode where Homer says, "Stupid Flanders!"
Continuity
References
The title is a parody of the Canadian patriotic poem "In Flanders Field".
The song 'Put On a Happy Face' from the musical Bye Bye Birdie appears twice. Sung by Maude, Rod and Todd Flanders in the car and later by everyone in the Leftorium when the place becomes a success.
The episode features cultural references to playwright William Shakespeare and the film It's a Wonderful Life.
Goofs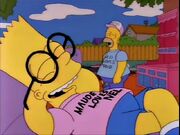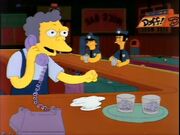 As discussed in the main page, this episode features an infamously high number of small errors in the animation, including general sloppiness in line work and coloring.
During the opening scene, a piece of grass disappears while it is being cut.
In the Flanders' car, there is an antenna on the window that randomly appears and disappears.
When Bart was wearing the shirt that said Maude loves Ned, it instead said Maude loves Nel. The rest of the D in "Ned" may be on the other side of Bart's belly.
In the Moe's scene Lou is seen with yellow skin.
Community content is available under
CC-BY-SA
unless otherwise noted.