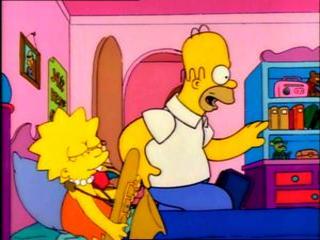 When the Saints Go Over There is a song ad-libbed by Homer to a certain famous folk tune Lisa played on her saxophone.
Lyrics
(Lisa starts to play)
Homer:
Huh? Yeah! That's more like it! Oh-ho! Whoo!
Oh, I want to be in that rumba,
When the saints go over there.
Oh, over there! Oh, over there...
Trivia
The song is Homer's misinterpretation of "When the Saints Go Marching In". The lyrics were written by Nell Scovell.
Appearances