Wiki Targeted (Entertainment)
Play Sound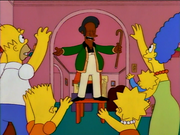 "Who Needs the Kwik-E-Mart?" is an Emmy-nominated song sung by Apu Nahasapeemapetilon, Marge, Lisa, Bart, and Homer Simpson from the episode "Homer and Apu". It is a song about how much Apu prefers the Simpsons' house to his workplace, The Kwik-E-Mart. The music was written by Alf Clausen, the lyrics by Greg Daniels. It is also included in the album Songs in the Key of Springfield. As mentioned before, the song was nominated for an Emmy award for Outstanding Individual Achievement in Music and Lyrics. It lost to "The Song Remembers When" from the TV special Tricia Yearwood: The Song Remembers When.
Lyrics
Apu:
You see...
Whether igloo, hut, or lean-to,
Or a geodesic dome,
There's no structure I have been to
Which I'd rather call my home.
Abe:
Hello.
Apu takes Abe's cane and Abe falls to the floor.
Apu
When I first arrived, you were all such jerks
But now I've come to loooooooove your quirks.
Maggie, with her eyes so bright,
Marge with hair by Frank Lloyd Wright,
Lisa can philosophize,
Bart's adept at spinning lies.
Homer's a delightful fella.
Sorry 'bout the salmonella.
Homer:
Heh-heh. That's okay.
Apu:
(taking Abe's chair and climbing on top of it)
Who needs the Kwik-E-Mart?
Now here's the tricky part,
Oh, won't you rhyme with me?
Who needs the Kwik-E-Mart?
Marge:
Their floors are sticky-mart!
Lisa:
They made Dad sick-e-mart!
Bart:
(holding a brick) Let's hurl a brick-e-mart!
Homer:
The Kwik-E-Mart is real—
All:
Who needs the Kwik-E-Mart?
Apu:
Not meeeeeeeeeee!
The Simpsons (simultaneously):
Forget the Kwik-E-Mart!
Good-bye to Kwik-E-Mart!
Who needs the Kwik-E-Mart?
Apu:
Not me!
Apu takes off the chair and leaves the room
All Singing, All Dancing!
Homer:
(speaking) Everything really wrapped up nicely. Much quicker than unusual.
Marge:
(speaking) I guess we've learned that happiness is wherever you find it.
Homer:
(speaking) And we've all found happiness. Everyone of one. (turns on TV)
The family hears Apu sobbing.
Homer:
(speaking) Hey. What's that sound?
The family observes Apu crying on the roof.
Apu (sadly):
Who needs the Kwik-E-Mart?
I dooo!
Homer:
Hey, he's not happy at all. He lied to us through song! I hate when people do that!
Community content is available under
CC-BY-SA
unless otherwise noted.