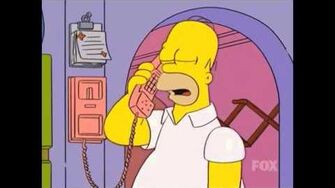 Wichita Lineman is a song by Jimmy Webb that is sung by Homer in Co-Dependent's Day.
Lyrics
Homer: I am a lineman for the county!
Your call is important to us. Please continue to hold.
And I drive the main road!
There are eight calls ahead of you.
And the Wichita Lineman,
Is still on the li-li-li-li-li-li-li-li-li-li-li-li-line!