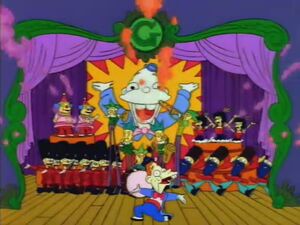 You're Gonna Like Me (The Gabbo Song) is the theme song for the ventriloquist dummy Gabbo in the episode Krusty Gets Kancelled. The music was written by Jeff Martin and the lyrics by John Swartzwelder. It is the forty-sixth track on the album Go Simpsonic with The Simpsons.
Lyrics
You're gonna like me!
You're gonna love me!
Cuz I can do most anything!
I can do the hully-gully!
(dances)
I can imitate Vin Scully!
(as Scully) Let's take time-out from this triple play to talk about Farmer Dan's Pure Pork Sausages, mmm-hmm!
(normal voice)
I'll give out shiny dimes!
(banjo plays "We're in the Money")
I'll travel back in time!
Dolls:
You're gonna like him!
You're going to love him!
All:
It's the greatest show in tow-ow-ow-ow-ow-ow-own!
GABBO!
Aah, that dummy doesn't scare me. I've had plenty of guys come after me and I've buried 'em all: hobos, sea captains, Joey Bishop.
Woman:
Don't forget the Special Olympics.
Oh, yeah. I slaughtered the Special Olympics. (laughs)
Community content is available under
CC-BY-SA
unless otherwise noted.