"hair............HAIR!!!!!!!!!!!"
―Zachary Vaughn
"Every class is a joke. English a joke, homeroom a joke. Free period a joke. Nutritious lunch a joke! Only alcohol can make life bearable. You must drink! Always drink!"
―Zachary Vaughn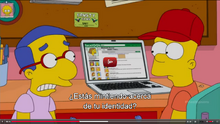 Zachary Vaughn is the teacher that replaced Edna Krabappel as the fourth grade teacher at Springfield Elementary School.
Biography
He was thought to be cool by most of the kids, using Facebook, Twitter and sending text messages to the kids instead of giving them actual work. He was fired after he put vodka in his Blue Bronco Energy Drink and insulted the students while drunk. He had only just gotten a Masters in education at Tufts University before he took on that fourth grade class. Ironically, Bart considered doing the exact same thing to him in an attempt to get Krabappel back before deciding instead to admit he was responsible for Krabappel's firing and take any punishment so long as she is brought back, and made clear he did not spike his drink when Skinner heard the commotion. They were his first class ever.
He has made a cameo appearance in "The Day the Earth Stood Cool" talking to some of T-Rex birthday party's guests.
Vaughn can also be seen briefly in "Blazed and Confused" as one of Mrs. Hoover's fake account friends. His face appears in a tiny size and only can be seen in detail. Whether it implies that he is added to the account because he is friends with Bart (who created the account) or because he is working again at Springfield Elementary School, is unclear.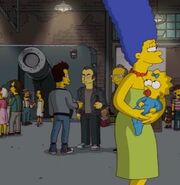 Appearances
Community content is available under
CC-BY-SA
unless otherwise noted.